[ad_1]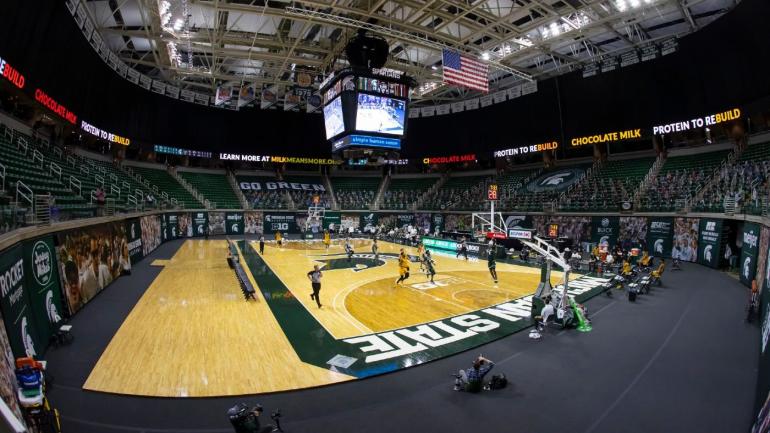 Getty Photos
Michigan State's efforts to get again on monitor following a 2-4 begin to Large Ten play are hitting a snag after two gamers examined constructive for COVID-19. After Thursday's scheduled sport at Iowa was postponed, it has additionally been introduced that Sunday's showdown with Indiana has been postponed as properly.
Indiana and Michigan State are anticipated to work with the league to "establish choices for rescheduling the competition," in response to an announcement from Indiana. For Michigan State, the consecutive postponed video games might find yourself which means this system goes 15 days between video games at a time when it's attempting to cement an id within the nation's hardest convention. Michigan State's subsequent scheduled sport is Jan. 23 towards Illinois.
The Spartans rose to No. 4 within the AP ballot amid a 6-0 begin however have since dropped from the ballot after dropping 4 of six video games to start convention play, together with a 55-54 house loss to Purdue on Friday. Coach Tom Izzo mentioned Wednesday that gamers Steven Izzo and Mady Sissoko examined constructive for COVID-19. 
"I am actually dissatisfied, nevertheless it simply goes to show that this will have an effect on anybody," Tom Izzo mentioned.  "I really feel so snug that me, my son and my gamers did all the pieces potential and adopted each protocol as finest we might.  I am actually, actually impressed with the best way they've carried out themselves. This virus doesn't discriminate and I am unable to emphasize sufficient how vital it's to put on a masks, wash your arms and observe protocols."
Upcoming notable postponements or cancellations
Jan. 14: Michigan State at Iowa
Jan. 14: SMU at Memphis
Jan. 14: Arizona State at Oregon
Jan. 14: Houston at South Florida
Jan. 16: Georgia Tech at NC State
Jan. 16: Georgetown at Windfall
Jan. 16: Arizona at Oregon
Jan. 16: TCU at West Virginia
Jan. 16: Xavier at Seton Corridor
Jan. 17: Wichita State at SMU
Jan. 17: Indiana at Michigan State
Jan. 19: Oklahoma State at West Virginia
Jan. 20: Georgetown at Marquette
TEAMS NOT COMPETING IN 2020-21
Bethune-Cookman
Maryland-Jap Shore
Chicago State (suspended season after 0-9 begin, citing determination to "concentrate on the well being, security, and educational pursuits of the Males's Basketball student-athletes.")
Earlier notable postponements or cancellations
Nov. 25: UTSA at Oklahoma 
Nov. 25: Virginia vs. Maine (Uncasville, Connecticut)
Nov. 25: Central Arkansas at Ole Miss
Nov. 25: Gardner-Webb at Duke — rescheduled for Dec. 19, then canceled
Nov. 25: Northern Arizona at Arizona
Nov. 25-27: Creighton at Crossover Basic (Sioux Falls, South Dakota)
Nov. 25-27: Texas A&M at Crossover Basic (Sioux Falls)
Nov. 25: Western Illinois at DePaul
Nov. 25: UMass Lowell vs. Florida
Nov. 25: Stanford vs. Utah Valley
Nov. 25: Drexel at Penn State
Nov. 26: Baylor vs. Arizona State at Empire Basic (Uncasville)
Nov. 26: Jackson State vs. Ole Miss
Nov. 27: Arkansas State at Ole Miss
Nov. 27; Baylor at Empire Basic (Uncasville)
Nov. 27: Virginia vs. Florida (Uncasville)
Nov. 27: Florida State vs. Gardner-Webb — rescheduled for Dec. 21
Nov. 28 Oklahoma at UCF
Nov. 28: Chicago State at DePaul
Nov. 29: Baylor at Seton Corridor
Nov. 29: Gardner-Webb at Georgia
Nov. 30: Lengthy Seaside State at UCLA
Nov. 30: Belmont Abbey at Charlotte
Dec. 1: Towson at Maryland 
Dec. 1: Alcorn State at DePaul
Dec. 1: Vanderbilt vs. UConn (Uncasville)
Dec. 2: Colorado at Arizona — rescheduled for Dec. 28
Dec. 3: Vanderbilt at Legends Basic (Uncasville)
Dec. 4: UNC Greensboro at Louisville
Dec. 4: Florida A&M at South Florida
Dec. 5: Gonzaga vs. Baylor (Indianapolis)
Dec. 5: NC State vs. UConn: (Uncasville)
Dec. 5: Alabama A&M at Ohio State
Dec. 5: James Madison at Maryland
Dec. 5: UT-Martin at Illinois
Dec. 5: Purdue-Fort Wayne at Notre Dame
Dec. 5: Ole Miss at Memphis       
Dec. 6: Florida A&M at Nebraska
Dec. 6: DePaul at Iowa State
Dec. 8: Fordham at Saint John's
Dec. 8: Tarleton State at Gonzaga
Dec. 9: Louisville at Wisconsin
Dec. 9: Michigan State at Virginia
Dec. 9: NC State at Michigan
Dec. 9: Robert Morris at West Virginia
Dec. 10: Southern at Gonzaga
Dec. 11: Saint John's at UConn
Dec. 12: Xavier at Windfall   
Dec. 12: Northern Arizona at Gonzaga
Dec. 12: Charleston Southern at Duke
Dec. 12: Saint John's at Texas Tech
Dec. 13: Stanford at USC 
Dec. 13: SIU-Edwardsville at Northwestern
Dec. 13: Texas at Baylor
Dec. 13: William & Mary at Virginia 
Dec. 13: UConn at Georgetown
Dec. 15: Tarleton State at Baylor
Dec. 15: Detroit at Kentucky
Dec. 15: Seton Corridor at Xavier
Dec. 16: NC State at Louisville
Dec. 16: Northern Iowa at Wisconsin
Dec. 18: Xavier at DePaul 
Dec. 17: DePaul at Windfall 
Dec. 19: Virginia vs. Villanova (at Madison Sq. Backyard)
Dec. 19: Gardner-Webb at Duke
Dec. 19: Houston at Alabama
Dec. 19: South Carolina at Clemson
Dec. 21: San Diego at Arizona
Dec. 22: Notre Dame at Syracuse
Dec. 22: VCU at LSU
Dec. 22: UNLV at Wyoming
Dec. 23: UCLA at Oregon
Dec. 23: South Carolina State at South Carolina
Dec. 23: UConn at DePaul
Dec. 29: South Carolina at Kentucky
Dec. 30: Syracuse at Wake Forest
Dec. 31: San Diego State at UNLV
Jan. 2: North Carolina at Syracuse (rescheduled for Jan. 12)
Jan. 2: DePaul at St. John's
Jan. 2: Arizona State at Washington
Jan. 2: Memphis at Temple
Jan. 2: Virginia Tech at Virginia
Jan. 2: San Diego State at UNLV
Jan. 3: Wisconsin at Penn State
Jan. 4: San Diego State at UNLV
Jan. 5: Villanova at DePaul
Jan. 5: Memphis at UCF
Jan. 5: Nebraska at Purdue
Jan. 6: Georgia Tech at Notre Dame
Jan. 6: UMass at George Washington
Jan. 6: Penn State at Ohio State
Jan. 6: Oregon State at Utah
Jan. 6: Temple at Tulane
Jan. 7: Gonzaga vs. Santa Clara
Jan. 8: Villanova vs. Marquette
Jan. 9: Florida State at Pittsburgh 
Jan. 9: Clemson at North Carolina
Jan. 9: South Carolina at Ole Miss 
Jan. 9: Oregon State at Colorado
Jan. 9: LSU at Missouri  
Jan. 9: Virginia Tech at Louisville
Jan. 9: Michigan at Penn State
Jan. 12: Clemson at Syracuse
Jan. 12: West Virginia at Baylor
Jan. 12: Vanderbilt at Missouri
Jan. 12: Tennessee at Vanderbilt
Jan. 12: Tennessee at South Carolina
Jan. 13: Illinois at Nebraska
Jan. 13: DePaul at Georgetown
Jan. 13: Iowa State at Kansas State
Jan. 13: Villanova at Xavier
[ad_2]

supply