[ad_1]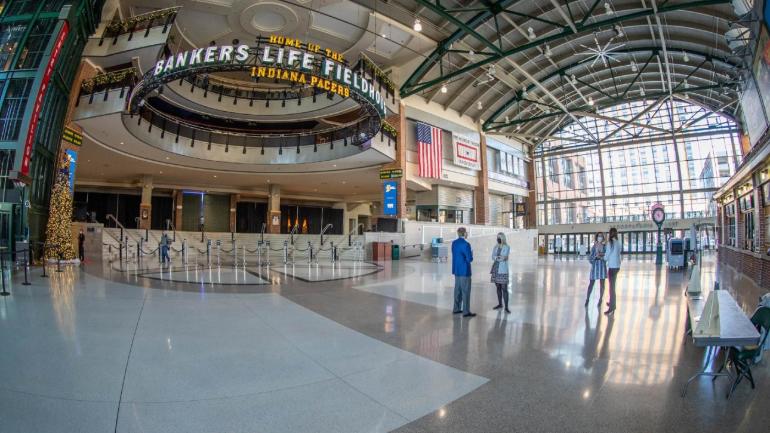 Getty Photos
The SEC opener for each South Carolina and Kentucky, initially scheduled for Dec. 29 at Rupp Area in Lexington, Kentucky, has been postponed. The colleges introduced the choice on Wednesday on account of a mix of optimistic COVID-19 exams, contact tracing and subsequent quarantining of people throughout the Gamecocks program. A date to make up the sport has not but been set.
It is the fifth sport South Carolina has been pressured to postpone or cancel due to points with COVID-19 that cropped up simply three video games into the season. It final performed on Dec. 5, falling 77-67 to Houston to drop to 1-2 on the season.
Elsewhere in scheduling information: As a result of final Saturday night time's beforehand scheduled huge matchup between Villanova and Virginia couldn't be performed, a reasonably good make-up sport has been scheduled as a substitute — No. 1 Gonzaga vs. No. 16 Virginia will meet Saturday on CBS. 
With Baylor incapable of creating up its sport vs. Gonzaga and Villanova unable to get in its sport vs. Virginia, the Bulldogs and Cavaliers had a gap and made the most effective of it, offering school hoops with its greatest sport for the day-after-Christmas slate. Gonzaga and Virginia are scheduled to tip at 4 p.m. ET at Dickies Area in Fort Price, Texas. 
Yet another of observe: LSU was scheduled to host VCU on Tuesday night time, however the sport won't be performed as scheduled "in accordance with SEC and NCAA COVID-19 protocols," LSU mentioned in a launch.  
Upcoming notable postponements or cancellations
Dec. 23: South Carolina State at South Carolina
Dec. 23: UConn at DePaul
Dec. 29: South Carolina at Kentucky
Dec. 30: Syracuse at Wake Forest
Dec. 31: San Diego State at UNLV
Jan. 2: North Carolina at Syracuse
Jan. 2: San Diego State at UNLV
Jan. 4: UNLV at San Diego State
TEAMS NOT COMPETING IN 2020-21
Earlier notable postponements or cancellations
Nov. 25: UTSA at Oklahoma 
Nov. 25: Virginia vs. Maine (Uncasville, Connecticut)
Nov. 25: Central Arkansas at Ole MIss
Nov. 25: Gardner-Webb at Duke — rescheduled for Dec. 19, then canceled
Nov. 25: Northern Arizona at Arizona
Nov. 25-27: Creighton at Crossover Traditional (Sioux Falls, South Dakota)
Nov. 25-27: Texas A&M at Crossover Traditional (Sioux Falls)
Nov. 25: Western Illinois at DePaul
Nov. 25: UMass Lowell vs. Florida
Nov. 25: Stanford vs. Utah Valley
Nov. 25: Drexel at Penn State
Nov. 26: Baylor vs. Arizona State at Empire Traditional (Uncasville)
Nov. 26: Jackson State vs. Ole Miss
Nov. 27: Arkansas State at Ole Miss
Nov. 27; Baylor at Empire Traditional (Uncasville)
Nov. 27: Virginia vs. Florida (Uncasville)
Nov. 27: Florida State vs. Gardner-Webb — rescheduled for Dec. 21
Nov. 28 Oklahoma at UCF
Nov. 28: Chicago State at DePaul
Nov. 29: Baylor at Seton Corridor
Nov. 29: Gardner-Webb at Georgia
Nov. 30: Lengthy Seashore State at UCLA
Nov. 30: Belmont Abbey at Charlotte
Dec. 1: Towson at Maryland 
Dec. 1: Alcorn State at DePaul
Dec. 1: Vanderbilt vs. UConn (Uncasville)
Dec. 2: Colorado at Arizona — rescheduled for Dec. 28
Dec. 3: Vanderbilt at Legends Traditional (Uncasville)
Dec. 4: UNC Greensboro at Louisville
Dec. 4: Florida A&M at South Florida
Dec. 5: Gonzaga vs. Baylor (Indianapolis)
Dec. 5: NC State vs. UConn: (Uncasville)
Dec. 5: Alabama A&M at Ohio State
Dec. 5: James Madison at Maryland
Dec. 5: UT-Martin at Illinois
Dec. 5: Purdue-Fort Wayne at Notre Dame
Dec. 5: Ole Miss at Memphis       
Dec. 6: Florida A&M at Nebraska
Dec. 6: DePaul at Iowa State
Dec. 8: Fordham at Saint John's
Dec. 8: Tarleton State at Gonzaga
Dec. 9: Louisville at Wisconsin
Dec. 9: Michigan State at Virginia
Dec. 9: NC State at Michigan
Dec. 9: Robert Morris at West Virginia
Dec. 10: Southern at Gonzaga
Dec. 11: Saint John's at UConn
Dec. 12: Xavier at Windfall   
Dec. 12: Northern Arizona at Gonzaga
Dec. 12: Charleston Southern at Duke
Dec. 12: Saint John's at Texas Tech
Dec. 13: Stanford at USC 
Dec. 13: SIU-Edwardsville at Northwestern
Dec. 13: Texas at Baylor
Dec. 13: William & Mary at Virginia 
Dec. 13: UConn at Georgetown
Dec. 15: Tarleton State at Baylor
Dec. 15: Detroit at Kentucky
Dec. 15: Seton Corridor at Xavier
Dec. 16: NC State at Louisville
Dec. 16: Northern Iowa at Wisconsin
Dec. 18: Xavier at DePaul 
Dec. 17: DePaul at Windfall 
Dec. 19: Virginia vs. Villanova (at Madison Sq. Backyard)
Dec. 19: Gardner-Webb at Duke
Dec. 19: Houston at Alabama
Dec. 19: South Carolina at Clemson
Dec. 21: San Diego at Arizona
Dec. 22: Notre Dame at Syracuse
Dec. 22: VCU at LSU
Dec. 22: UNLV at Wyoming
[ad_2]

supply