[ad_1]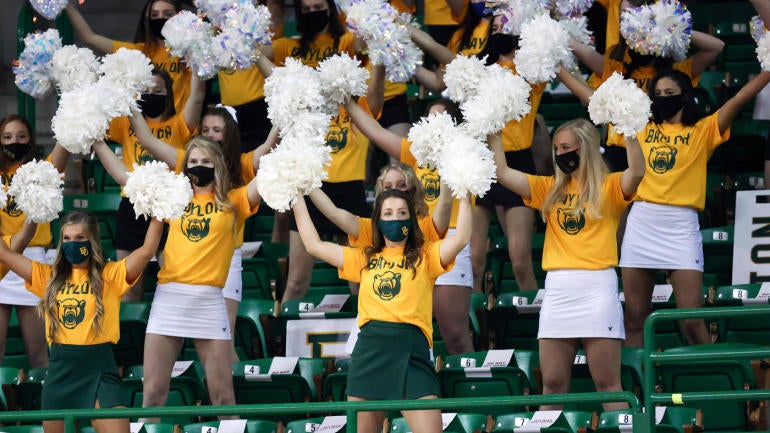 USATSI
Baylor coach Scott Drew and the Large 12 introduced Thursday that undefeated No. 2 Bears could have their subsequent two video games postponed, with Baylor citing "the Large 12 Convention males's basketball interruption pointers" as the rationale. Baylor was set to host TCU on Saturday and play at No. 9 Oklahoma on Wednesday. The league is anticipated to work with the groups to reschedule the video games.
The interruption comes because the Bears (17-0, 9-0 Large 12) have positioned themselves because the unquestioned frontrunners within the Large 12 and heavy favorites to land a No. 1 seed within the NCAA Match subsequent month. They're one among simply three unbeaten groups remaining in faculty basketball together with No. 1 Gonzaga and No. 25 Drake, and the one one of many trio that performs in a serious convention. The Bears have but to win a sport by fewer than eight factors and soundly defeated No. 6 Texas 83-69 on Tuesday night time.
This is not the primary pause for Baylor throughout a season that has been rife with COVID-19 interruptions throughout the nation. A sport in opposition to Tarleton State in December was canceled and a gathering with Texas postponed whereas the Bears had been on pause because of COVID-19 points. A extremely anticipated showdown with Gonzaga was additionally nixed in December simply hours earlier than tip-off.
As Baylor's schedule stands now, this system's first sport again on the court docket could be Feb. 15 at West Virginia after an almost two-week layoff. An earlier date with the Mountaineers was postponed in January because of COVID-19 points within the WVU program. 
Baylor is not the one packages experiencing comparable struggles, so under we're monitoring all the foremost postponements and cancellations associated to COVID-19.
Upcoming notable postponements or cancellations
Feb. 6: TCU at Baylor
Feb. 6: Florida State at Pittsburgh
Feb. 6: Santa Clara at Gonzaga
Feb. 6: Michigan State at Michigan
Feb. 7: Xavier at Villanova
Feb. 9: Florida State at Virginia Tech
Feb. 10: Baylor at Oklahoma
TEAMS NOT COMPETING IN 2020-21
Bethune-Cookman
Maryland-Jap Shore
Chicago State (suspended season after 0-9 begin, citing choice to "concentrate on the well being, security, and educational pursuits of the Males's Basketball student-athletes.")
Earlier notable postponements or cancellations
Nov. 25: UTSA at Oklahoma 
Nov. 25: Virginia vs. Maine (Uncasville, Connecticut)
Nov. 25: Central Arkansas at Ole Miss
Nov. 25: Gardner-Webb at Duke — rescheduled for Dec. 19, then canceled
Nov. 25: Northern Arizona at Arizona
Nov. 25-27: Creighton at Crossover Traditional (Sioux Falls, South Dakota)
Nov. 25-27: Texas A&M at Crossover Traditional (Sioux Falls)
Nov. 25: Western Illinois at DePaul
Nov. 25: UMass Lowell vs. Florida
Nov. 25: Stanford vs. Utah Valley
Nov. 25: Drexel at Penn State
Nov. 26: Baylor vs. Arizona State at Empire Traditional (Uncasville)
Nov. 26: Jackson State vs. Ole Miss
Nov. 27: Arkansas State at Ole Miss
Nov. 27; Baylor at Empire Traditional (Uncasville)
Nov. 27: Virginia vs. Florida (Uncasville)
Nov. 27: Florida State vs. Gardner-Webb — rescheduled for Dec. 21
Nov. 28 Oklahoma at UCF
Nov. 28: Chicago State at DePaul
Nov. 29: Baylor at Seton Corridor
Nov. 29: Gardner-Webb at Georgia
Nov. 30: Lengthy Seaside State at UCLA
Nov. 30: Belmont Abbey at Charlotte
Dec. 1: Towson at Maryland 
Dec. 1: Alcorn State at DePaul
Dec. 1: Vanderbilt vs. UConn (Uncasville)
Dec. 2: Colorado at Arizona — rescheduled for Dec. 28
Dec. 3: Vanderbilt at Legends Traditional (Uncasville)
Dec. 4: UNC Greensboro at Louisville
Dec. 4: Florida A&M at South Florida
Dec. 5: Gonzaga vs. Baylor (Indianapolis)
Dec. 5: NC State vs. UConn: (Uncasville)
Dec. 5: Alabama A&M at Ohio State
Dec. 5: James Madison at Maryland
Dec. 5: UT-Martin at Illinois
Dec. 5: Purdue-Fort Wayne at Notre Dame
Dec. 5: Ole Miss at Memphis       
Dec. 6: Florida A&M at Nebraska
Dec. 6: DePaul at Iowa State
Dec. 8: Fordham at Saint John's
Dec. 8: Tarleton State at Gonzaga
Dec. 9: Louisville at Wisconsin
Dec. 9: Michigan State at Virginia
Dec. 9: NC State at Michigan
Dec. 9: Robert Morris at West Virginia
Dec. 10: Southern at Gonzaga
Dec. 11: Saint John's at UConn
Dec. 12: Xavier at Windfall   
Dec. 12: Northern Arizona at Gonzaga
Dec. 12: Charleston Southern at Duke
Dec. 12: Saint John's at Texas Tech
Dec. 13: Stanford at USC 
Dec. 13: SIU-Edwardsville at Northwestern
Dec. 13: Texas at Baylor
Dec. 13: William & Mary at Virginia 
Dec. 13: UConn at Georgetown
Dec. 15: Tarleton State at Baylor
Dec. 15: Detroit at Kentucky
Dec. 15: Seton Corridor at Xavier
Dec. 16: NC State at Louisville
Dec. 16: Northern Iowa at Wisconsin
Dec. 18: Xavier at DePaul 
Dec. 17: DePaul at Windfall 
Dec. 19: Virginia vs. Villanova (at Madison Sq. Backyard)
Dec. 19: Gardner-Webb at Duke
Dec. 19: Houston at Alabama
Dec. 19: South Carolina at Clemson
Dec. 21: San Diego at Arizona
Dec. 22: Notre Dame at Syracuse
Dec. 22: VCU at LSU
Dec. 22: UNLV at Wyoming
Dec. 23: UCLA at Oregon
Dec. 23: South Carolina State at South Carolina
Dec. 23: UConn at DePaul
Dec. 29: South Carolina at Kentucky
Dec. 30: Syracuse at Wake Forest
Dec. 31: San Diego State at UNLV
Jan. 2: North Carolina at Syracuse (rescheduled for Jan. 12)
Jan. 2: DePaul at St. John's
Jan. 2: Arizona State at Washington
Jan. 2: Memphis at Temple
Jan. 2: Virginia Tech at Virginia
Jan. 2: San Diego State at UNLV
Jan. 3: Wisconsin at Penn State
Jan. 4: San Diego State at UNLV
Jan. 5: Villanova at DePaul
Jan. 5: Memphis at UCF
Jan. 5: Nebraska at Purdue
Jan. 6: Georgia Tech at Notre Dame
Jan. 6: UMass at George Washington
Jan. 6: Penn State at Ohio State
Jan. 6: Oregon State at Utah
Jan. 6: Temple at Tulane
Jan. 7: Gonzaga vs. Santa Clara
Jan. 8: Villanova vs. Marquette
Jan. 9: Florida State at Pittsburgh 
Jan. 9: Clemson at North Carolina
Jan. 9: South Carolina at Ole Miss 
Jan. 9: Oregon State at Colorado
Jan. 9: LSU at Missouri  
Jan. 9: Virginia Tech at Louisville
Jan. 9: Michigan at Penn State
Jan. 12: Clemson at Syracuse
Jan. 12: West Virginia at Baylor
Jan. 12: Vanderbilt at Missouri
Jan. 12: Tennessee at Vanderbilt
Jan. 12: Tennessee at South Carolina
Jan. 13: Illinois at Nebraska
Jan. 13: DePaul at Georgetown
Jan. 13: Iowa State at Kansas State
Jan. 13: Villanova at Xavier
Jan. 14: Michigan State at Iowa
Jan. 14: SMU at Memphis
Jan. 14: Arizona State at Oregon
Jan. 14: Houston at South Florida
Jan. 16: Iowa State at Kansas
Jan. 16: Oklahoma at Oklahoma State
Jan. 16: Georgia Tech at NC State
Jan. 16: Georgetown at Windfall
Jan. 16: Arizona at Oregon
Jan. 16: TCU at West Virginia
Jan. 16: Xavier at Seton Corridor
Jan. 17: Wichita State at SMU
Jan. 17: Indiana at Michigan State
Jan. 18: Notre Dame at Howard
Jan. 19: Oklahoma State at West Virginia
Jan. 19: UCLA at Oregon
Jan. 20: Texas at Iowa State
Jan. 20: Texas Tech at TCU
Jan. 20: NC State at Virginia
Jan. 20: Boston Faculty at Virginia Tech
Jan. 20: Nebraska at Minnesota
Jan. 20: Xavier at UConn
Jan. 20: Georgetown at Marquette
Jan. 20: East Carolina at South Florida
Jan. 20: Texas A&M at Vanderbilt
Jan. 20: SMU at Tulane
Jan. 20: Cincinnati at Temple
Jan. 21: USC at Stanford
Jan. 22: Seton Corridor at Butler
Jan. 23: Texas at TCU
Jan. 23: Iowa State at Texas Tech
Jan. 23: Illinois at Michigan State
Jan. 23: Tulane at Tulsa
Jan. 23: Pittsburgh at Boston Faculty
Jan. 24: Nebraska at Iowa
Jan. 24: South Florida at Wichita State
Jan. 26: Georgetown at Xavier
Jan. 27: Wichita State at Cincinnati
Jan. 27: Temple at South Florida
Jan. 27: Boston Faculty at Clemson
Jan. 28: Villanova at UConn
Jan. 28: Oregon at UCLA
Jan. 30: San Francisco at BYU
Jan. 30: St. Bonaventure at Davidson
Jan. 30: Indiana at Michigan
Jan. 30: Boston Faculty at Louisville
Jan. 30: Cincinnati at South Florida
Jan. 30: Oregon at USC
Jan. 31: UConn at St. John's
Feb. 1: Oregon at UCLA
Feb. 2: Kentucky at Missouri (moved to Feb. 3)
Feb. 2: Florida State at Boston Faculty
Feb. 3: Louisville at Syracuse
Feb. 3: Vanderbilt at Texas A&M 
Feb. 3: Xavier at DePaul
Feb. 3: Michigan at Northwestern
Feb. 4: Loyola Marymount at Gonzaga
[ad_2]

supply